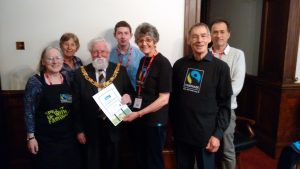 Lancaster's new Mayor, Cllr. Roger Mace, attended the AGM of the Lancaster, Morecambe and District Fairtrade Group on Monday, May 15th. He was welcomed by Margaret Rand, Chair of the Group. She presented him with the Fairtrade Foundation certificate received following the recent renewal of the District's status. It was the first Fairtrade District and remains the only one in the world.
The Mayor spoke about the importance of being fair in all trading relationships, and indicated his continued support of the Group and Fairtrade in general.
The Group wished him an enjoyable and fulfilling term of office.