Around a hundred people attended a service on 26 February at St Thomas' Church, Lancaster to celebrate the 10th anniversary  of Lancaster's declaration as a Fairtrade District. Joan Robinson spoke of the opening in 1984 of the Craftaid shop behind the church. It was the first retail outlet in the city to sell goods with fairly traded certification. Margaret Rand, Chair of the Lancaster Morecambe and District Fairtrade Group, outlined its beginnings in 2002 and presented a powerpoint of activities over the years. Diagrams showing the increasing number over the last ten years of shops, cafés, restaurants, hotels, schools and other establishments selling or using Fairtrade goods, illustrated the effectiveness of the campaign.
A dozen pupils from Ellel St John's Primary School gave a dramatised presentation showing the small amount of money received by growers of bananas which are not Fairtrade. It concluded with a shout of 'It's not fair!' We also heard how, through the school council and Fairtrade Ambassadors from Years 5 and 6, the school hopes to achieve  Fairtrade status.
Bruce Crowther, founder of the Fairtrade Towns Movement, spoke of its impact across the world with Fairtrade towns in twenty three countries. He cited the change over the centuries in Lancaster from its links with West Africa in evils of the slave trade to the positive aspect of Fairtrade.
Songs from Garth Hewitt's 'Feast of Life' were sung by an ecumenical choir of thirty people from across the district from Forton to Bolton- le-Sands, and the hymns, all of which were written since 1999, included references to social justice and Fairtrade.
The Mayor of Lancaster was unable to be present but a letter from her was read congratulating the Fairtrade Group on its work, stating that Fairtrade tea and coffee was served in all council buildings,  and wishing the group well in the future.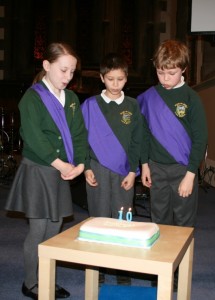 The evening concluded with the cutting of a 10th birthday cake and its serving along with Faitrade teas and coffees.
Arton Medd
Secretary
Lancaster, Morecambe and District Fairtrade Group