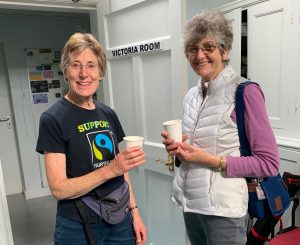 There has been a series of "Join in Live" events around the country. For example in July the Victoria Institute at Caton (which has a Drop-in that is open weekdays for a Fairtrade cuppa at a very reasonable price) was the venue for an event where the Co-op was offering cups of coffee or tea and delicious samples of Fairtrade chocolate. All cocoa in Co-op own brand products is Fairtrade certified. When I pointed out that sometimes ingredient lists used to include the words "Fairtrade sugar" and we were reassured that the Co-op still sells some own brand products containing Fairtrade sugar.
When Fairtrade certified cotton first came onto the market the co-op was quick to produce Fairtrade cotton pads and buds – the latter always using a plastic-free stem. The buds were on show at the Caton "Join in Live" event. It is worth looking out for the Fairtrade certification on any cotton items that you plan to buy.
The Co-op is proud of its range of wines.