GALGATE'S BIG FAIRTRADE BREAKFAST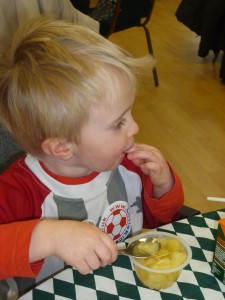 Around 80 people from the village and beyond enjoyed a musical accompanied Fairtrade breakfast  at Ellel Village Hall last Saturday morning, giving the local community an opportunity to meet up and catch up with friends and neighbours. The important message of Fairtade, as well as Jam, Honey and Marmalade, was spread. Joe Wilson from Radio Lancashire came along and the event featured on his Sunday morning programme.
Children were kept occupied  with a colouring competition.  There was also a poster exhibition, Fairtrade stall and raffle.
FAIRTRADE BREAKFAST HELD IN ARKHOLME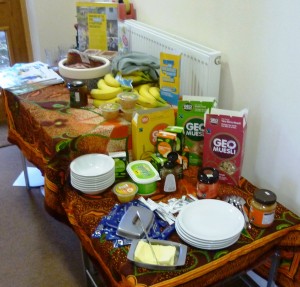 People from around the district and beyond enjoyed a warm reception and the chance to tuck into a delicious Fairtrade breakfast on Saturday 5th March. There was a choice of varieties of Fairtrade muesli, Fairtrade bananas and Fairtrade spreads such as marmalade, jam and peanut butter to go with freshly toasted bread.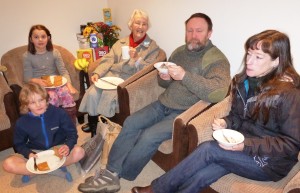 FAIRTRADE REFRESHMENTS IN BROOKHOUSE
Fairtrade tea, coffee, juice, biscuits, fruit and other Fairtrade samples were served as part of the Big Fairtrade Breakfast on the final day of Fairtrade Fortnight 2016 in St Pual's Church Hall. There was a chance to try cake that was made with Fairtrade ingredients brought from cafés in Lancaster. Most of the supplies came from the Craft Aid shop including Fairtrade meusli, pineapple pots and nuts. Bananas were from more than one supermarket and fresh grapes from Sainsburys were enjoyed.  The quality of Co-operative wine for tasting was appreciated.
FAIRTRADE FORTNIGHT SPECIALS
Look in the Fairtrade Fortnight post for a list of Cafés that served at least one Fairtrade drink and an item of Fairtrade food during the fortnight.
A Fairtrade Breakfast was donated to Lancaster Fire Station and also to members of a Well session held at the Hothouse in Morecambe.